Shalom!  Welcome!  I am excited to introduce "Ariel College of the Bible and Messianic Jewish Studies."
This short overview is a great place to begin as you consider taking one course or an entire degree program with us.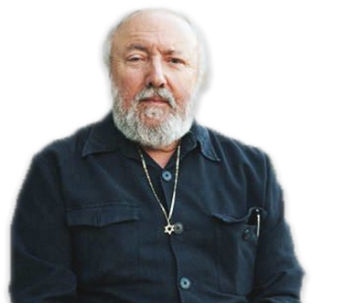 May the God of Jacob guide your steps,

Arnold G. Fruchtenbaum, ThM, PhD
Founder and President
Ariel College of the Bible and Messianic Jewish Studies
I. WHAT IS ARIEL COLLEGE OF THE BIBLE AND MESSIANIC JEWISH STUDIES?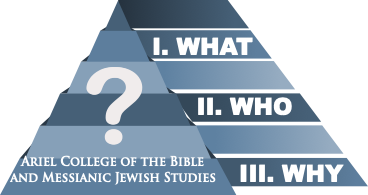 MISSION STATEMENT:
"Ariel College of the Bible and Messianic Jewish Studies (ACB-MJS) is an online Bible college that specializes in teaching the Bible and Theology from a Messianic Jewish perspective, for the glory of God and the good of His people."
VISION STATEMENT:

"The vision of ACB-MJS is to be recognized as the best online Bible and Messianic Jewish Studies college in the world, in the eyes of God and His people."
FOUNDING:

Ariel Ministries was founded in 1977 by Arnold G. Fruchtenbaum, ThM, PhD.
In 2016 the Ariel Board decided to launch a new online educational division of Ariel.

Stage One was to produce college-level Ariel online courses.
Stage Two was to establish Ariel's online college, ACB-MJS.
CAN I JUST TAKE ONE OR TWO COURSES?
Yes!  You can take a course, "a la carte," any time!
You will learn more about this in STEP 2, "CHOOSE A PLAN."
DEGREES:

All degrees are in one major only, "Biblical and Messianic Jewish Studies."
Completion of 20 full-credit ACB-MJS courses earns students an Associate's Degree, 40 a Bachelor's, and 60 a Master's.
All students, regardless of prior training, courses, or degrees, begin at the Associate's Level.  We do this because of our unique focus on the Messianic Jewish perspective in all of our courses as well as our theological and doctrinal positions.
Students pursuing a degree from us can select any of our Tier 1 or Tier 2 courses in any order they desire.  However, those courses comprised of multiple parts, (e.g. the four Life of Yeshua courses and the two Eschatology/Revelation courses) must be taken in sequential order.
Also, after the four "Foundations" courses are developed and launched, students will need to take these prior to graduation (FND 101-104).  These Foundations courses are planned to be completed prior to 2024.
We are a new college and we will be adding 3-5 new courses each year.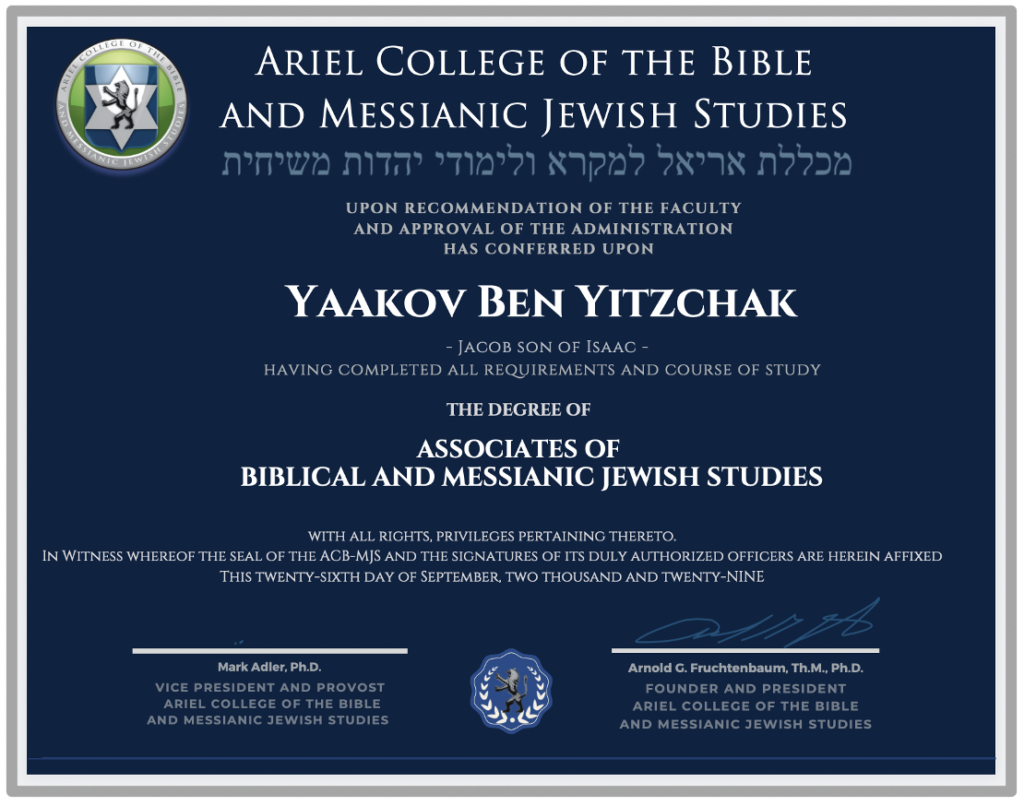 COSTS AND FEES:

The tuition cost for non-credit (audit-only) courses ranges from $49 to $69.
The cost for full-credit courses ranges from $99 to $299. This is far below what most other colleges charge for online courses.
We keep our prices extremely low because we do not want the costs to be a burden to any of our students.
We are only able to provide these courses at such low prices because of the sacrificial financial giving of believers who donate to this division of Ariel. 
We do not offer discounts, student loans, or special financing, but we do provide some scholarship funding for students who request and need assistance.  
You will see specific course prices in the "Catalog" item on the navigation bar.
ACCREDITATION:
We are not currently seeking accreditation.  We have no plans to seek accreditation because we see no need for it at this time. Our focus now is to develop our courses and program in ways well-pleasing to God so that we are fully aligned with His Word and His will.
LIST OF ACB-MJS COURSES: CURRENT AND PLANNED
Click the arrows to the left of each of the eight headings below (A-H) for the listings of the courses under each discipline. 
II. WHO ARE THE LEADERS, FACULTY, AND STUDENTS?
LEADERSHIP:
The President of ACB-MJS is Dr. Arnold G. Fruchtenbaum.
The Vice President and Provost is Dr. Mark Adler.
The Board of Directors is comprised of men who meet the biblical requirements for eldership and are fully aligned with Ariel Ministries doctrinal statement.
FACULTY:
Most courses are taught by Dr. Fruchtenbaum.
Only faculty that are 100% in agreement with the ACB-MJS doctrinal statement are permitted to teach.
We require all faculty to have at least a Master's degree, most will have terminal degrees (Th.D., Ph.D., D.Min.).
STUDENTS:
We have hundreds of students taking our courses from around the world. Most of our students are adult learners.
We maintain an open-enrollment policy and there are no entrance requirements for the Associate's Degree program.
Students will need to pass a writing-proficiency requirement to earn a Bachelor's or Master's degree from ACB-MJS.