There are four different study options for each course.
We call these "Tiers."
Below is a summary of all the tier options.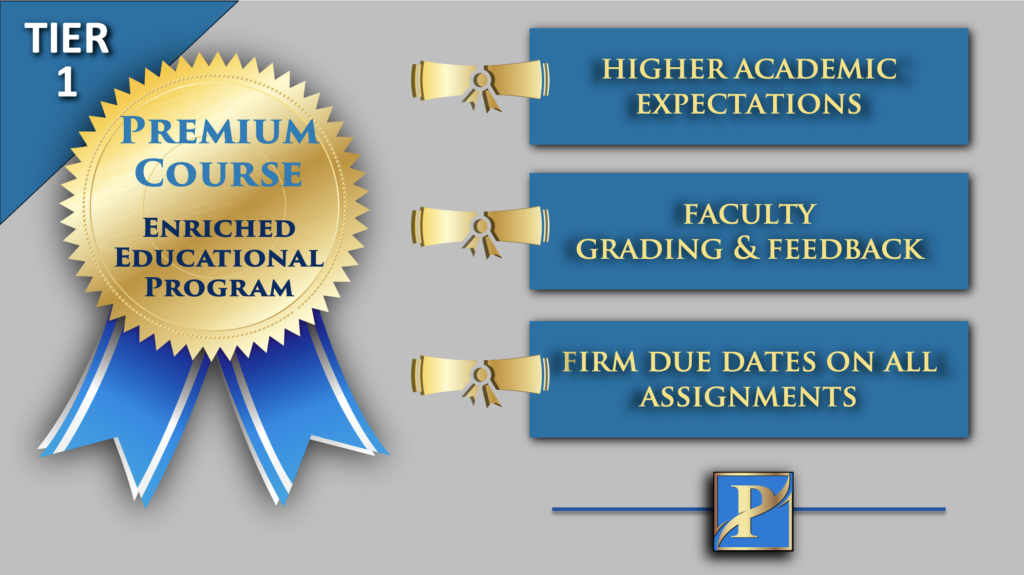 Summary of Tier 1 Courses
Instructor Interaction
Tier 1 courses have an instructor that personally oversees the course.

He grades written assignments, posts weekly notifications, and responds to student questions via email.
Weekly Deadlines
Tier 1 courses must be completed in one semester (16 weeks): normally one module each week.  Students have access to view the course for one year but the work (exams, assignments, etc.) must be completed in the semester it begins.

Students must complete all required work each week. Points are deducted for late work.

There are no live class meetings so students have flexibility to listen to the pre-recorded lectures, complete assignments and exams anytime they want during week (Discussion Board assignments are normally due earlier in the week).
Full Credit: Enriched Educational Program
Tier 1 courses have a broader variety of assignments, faculty feedback from written work, and a higher level of accountability. 

Tier 1 courses are considered educationally "Enhanced" due to all the factors above. 

Tier 1 student transcripts and the graduation diplomas will reflect completion of the ACB-MJS "Enhanced Education Program."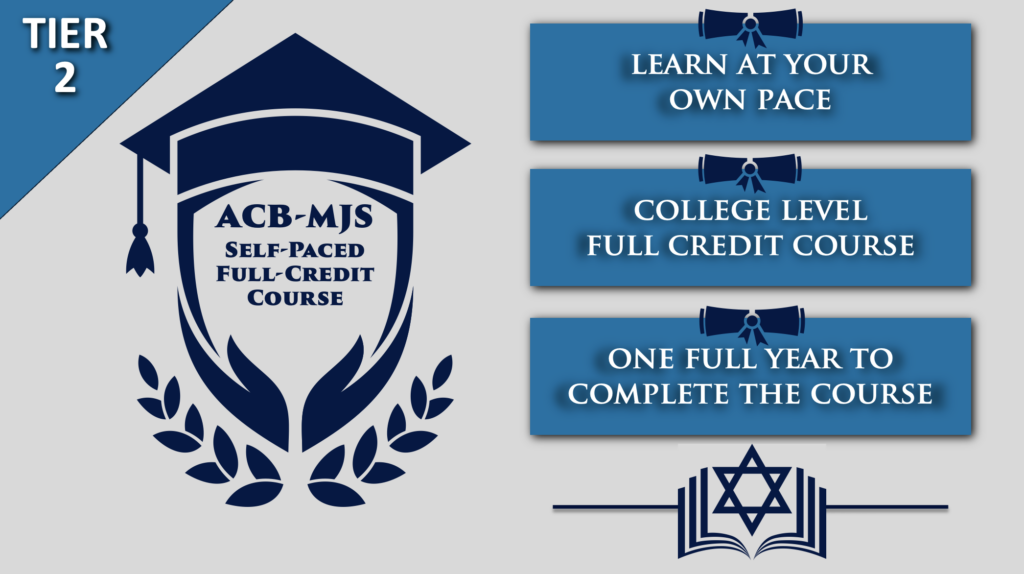 Summary of Tier 2 Courses
Self-Paced
Students set their own pace when working through the course, as long as the course is completed in one year. There are no other deadlines.  
Independent
There is no instructor-to-student interaction. If you have questions about your progress in the course or college then you would communicate with the administration only.

Tier 2 is a good choice for students who are very self-disciplined and prefer to work through course curriculum and lectures independently.
Full-Credit
Tier 2 courses are full-credit so they count towards a degree level certificate at ACB-MJS.

Tier 2 curriculum is almost the same as Tier 1 curriculum however written assignments are not turned-in or graded by an instructor and there are no discussion board assignments.

All written assignments must be retained by all Tier 2 students until graduation; we may examine all work to ensure it meets ACB-MJS academic standards.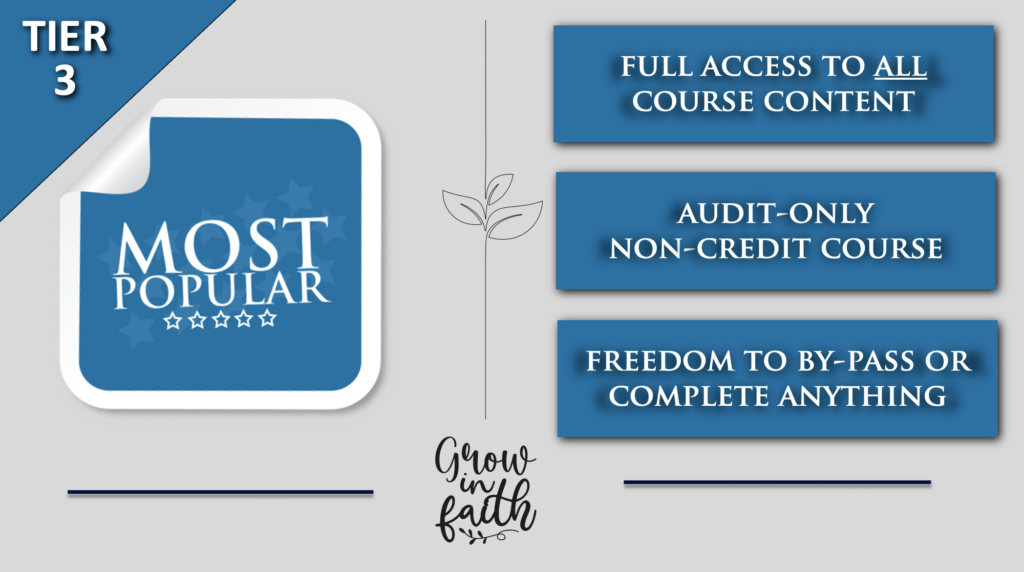 Summary of Tier 3 Courses
Non-Credit, Audit Only
Tier 3 courses are the same as Tier 2 courses but no ACB-MJS college credit is given for these courses.

Students have full access to all course content including: all lecture video presentations, all curriculum, all exams, all articles, and resources for one year from the date of purchase.

We do not maintain academic records for students taking non-credit courses.

Tier 3 courses are an excellent choice for many who want to study the Scriptures but are not seeking a degree or may not want to complete the exams or assignments.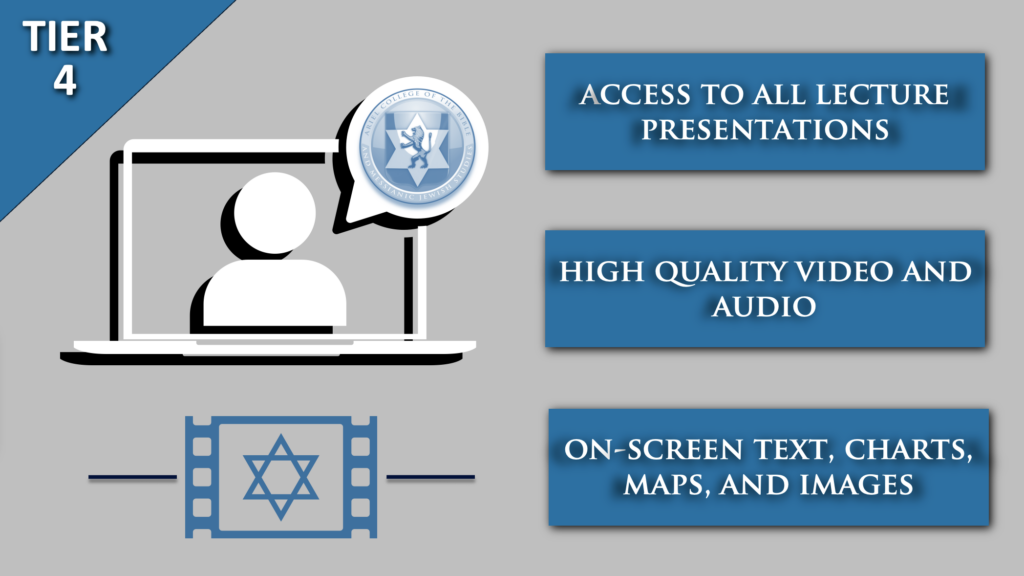 Summary of Tier 4 Courses
Course Video Lecture Presentations Only
Tier 4 courses grant access to view all of the course video lecture presentations, however there is no access granted to the rest of the course content (e.g. articles, curriculum, exams, etc.).

These lecture presentations are the centerpieces of our courses because they are quite extensive, covering almost all of the content in the course textbooks.

Our course video lectures are professionally recorded in closed-studio settings with outstanding audio, visual resolutions, and on-screen graphics and text.

Course lectures are organized by modules and most courses have 10-16 modules with from 9 to 20 hours of total lecture content in a course.

Tier 4 courses expire one year from the date of purchase.

Video and audio lectures cannot be copied, downloaded, or posted online.
AFTER READING TIERS 1-4, PROCEED TO "HOW TO START"